Davido Slams Attendees Of Separate P Square Birthdays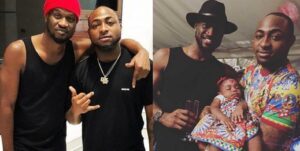 Nigerian award-winning artist, Davido has come out to slam everyone who had attended the separate P Square birthdays.
The Okoye twins celebrated their 39th birthday in a rather non-twin way as they held their own different parties.
One half, Peter had an indoor party while the other half, Paul had a rather public party having in attendance a couple of celebrities.
Some of the celebs in attendance were Harrysongz, Yemi Alade, Jude Okoye, and some others.
This didn't sit well with the Davido Music Worldwide (DMW) boss as he felt the twins should celebrate as twins.
He took to slamming the attendees on Twitter.
"Y'all niggas that wen to Peter and Paul's bday separately y'all pussy as fuck!! Them niggas is TWINS!! Not my business but Shit hurts I'm angry walai."
Earlier, Paul Okoye had gone on Instagram to bash his twin brother's wife after her birthday wishes for the twins.
Both Okoye twins have been on each other's throats since 2015 before calling the duo quits in 2017.
See Also: Lil Baby Responds To Backlashes After 'So Crazy' Feature
Thanks for reading.
Leave a comment in the sections below.