Guardiola Does Not Want Phil Foden To Copy De Bruyne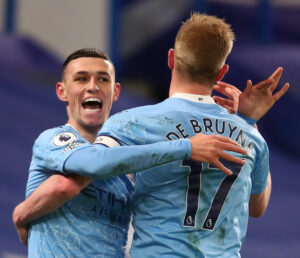 Manchester City boss, Pep Guardiola has advised that Phil Foden does not emulate fellow midfielder Kevin De Bruyne.
The manager stated that Foden was in good form but doesn't need to imitate what he does for the team.
Phil was instrumental in Manchester City's 3-1 win against Cheltenham Town where he scored the team's equalizing goal.
And with De Bruyne been out possibly in the coming months, the Englishman may be given a key role.
In his statement, Guardiola said;
"We have the players, Phil has to be Phil and not be Kevin De Bruyne because there's only one Kevin De Bruyne.
"He needs to keep doing what he has been doing in terms of when we are in a bad moment or when we are losing in terms of what he gave to the game.
"Phil is in a great moment and with great confidence. He is clinical in front of goal."
See Also: FC Barcelona Hope To Fill No 9 Slot With Sergio Aguero
Thanks for reading.