Real Madrid May Soon Not Be One Of Europe's Best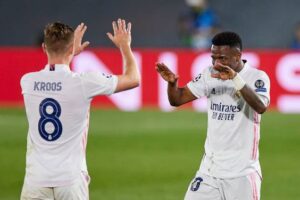 Spanish giants Real Madrid look to be having certain troubles delivering on the pitch which may affect their Europe's best status.
The Los Blancos well bettered by English side Chelsea FC in the semi-finals of the UEFA Champions League, losing on a 3 – 1 aggregate.
Goals from Timo Werner and Mason Mount were able to seal the deal for the London club at Stamford Bridge.
It was clear that Thomas Tuchel's side had the upper hand as they outplayed the Merengues beautifully.
Following their loss, MARCA put out a report they titled; "Robbery of the century: Chelsea use Hazard funds to build a Champions League powerhouse."
It is clear that the team is not what it used to be since Cristiano Ronaldo left and the profit has not been made productive.
After the game, Real Madrid manager Zinedine Zidane spoke admitting defeat, saying The Blues were the better side.
"They were superior, they deserved to win. They were more effective over the course of the match and they had a lot of chances too.
"Over the course of the two matches, they deserve the qualification. These are matches of a very high level and we missed something tonight.
"It is not about organization even though, in the duels, it was difficult." as stated by GOAL.
Real Madrid was a force to be reckoned with as far as the UEFA Champions League is concerned having won 13 trophies.
Winning 3 seasons in a row seemed to be the time they put their foot down on the competition.
If they fail to get themselves together these coming seasons, they may not be considered one of the continent's best.
See Also: Cristiano Ronaldo's Search For A New Club Proves Futile
Thanks for reading.