Chelsea Advances To UCL Knockout Stage – Twitter Erupts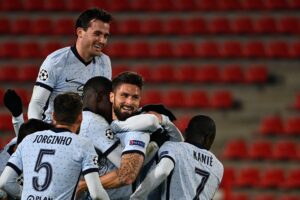 Premier League side, Chelsea FC advances to the UEFA Champions League knock out stage after beating Rennes 2 – 1.
Goals from Callum Hudson-Odoi and Olivier Giroud helped seal the deal for The Blues.
The London club has their qualification though having two matches left of the group stage.
This could definitely look like a rampage and a wake-up call for every other from Chelsea you never can tell.
Timo Werner got close early in the game but failed to convert from merely five yards.
Twitter has been on a roll after the game.
"We left it late, but it's THREE points in the #UCL secured…
..and a place in the last-16 (emoji)"
"FT: Rennes 1 – 2 Chelsea
Olivier Giroud sends Chelsea to the Champions League knockout stage."
"Mason Mount's assist for Callum Hodson-Odoi was his first-ever in the Champions League.
But it was well worth the wait."
See Also: Kevin De Bruyne Wants Jack Grealish At Manchester City
Thanks for reading.
Leave a comment in the sections below.