The Future Of Mesut Ozil Still In Doubt At Arsenal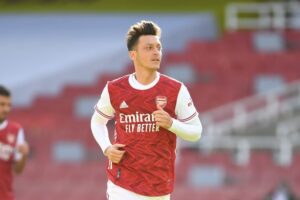 Arsenal manager, Mikel Arteta has made his statement as regards the future of Mesut Ozil at The Emirates.
The Spaniard had earlier hinted on a possible return for the German midfielder to the London team.
Since the beginning of the season, the German has been left out of the club's Premier League and Europa League games.
The German hasn't even played any minute of football for the Gunners this season.
In his statement, Arteta said;
"You have to respect the player's contracts.
"What you can do is just try to be open with them, tell them your intentions, the role that they have in the team, and why that is.
"They are entitled to make the decision in their lives because they have a contract here.
"Some would like to move because they are not playing and some would like to stay.
"That's something we cannot decide for ourselves."
Even with all that is going on, Ozil still wants to remain till the expiration of his contract.
Thanks for reading.
Leave a comment in the sections below.