Ed Woodward Resigns As Manchester United Chairman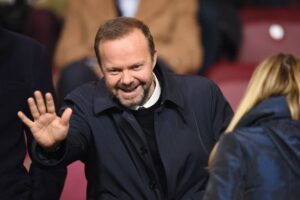 Ed Woodward has stepped down from his position as Manchester United chairman alongside the ESL reports going on.
The resigning chairman is believed to be a key to most Premier League clubs joining the European Super League.
Alongside club owner, Joel Glazer, he is believed to be part of the driving force.
The ESL comprises 12 founding members that include Manchester United, Manchester City, Chelsea, and Arsenal.
Fans had come out in mass to protest against the Super League in front of the various stadiums of clubs involved.
According to reports, Woodward handed in his notice today, resigning at the end of the current campaign.
Also, handing over his notice of resignation following the immense backlash towards the European Super League.
Ed was appointed the vice-president of the ESL alongside Andrea Agnelli, with Fiorentino Perez as president.
Since accepting to join the ESL, Manchester United had also faced criticism from people involved with the club, past, and present.
See Also: Manchester United Boss Interested In Brazilian Youngster
Thanks for reading.