Cristiano Ronaldo Finally Speaks On Juventus UCL Exit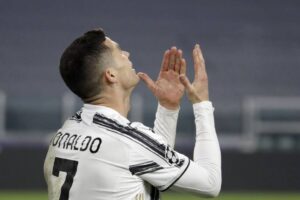 Portuguese international, Cristiano Ronaldo breaks silence on Juventus UCL exit after their game against FC Porto.
The forward has lost a third opportunity to secure the UEFA Champions League with the Old Ladies since joining the club.
CR7 has since been under fire most especially and rumors speculate a potential return to former club, Real Madrid.
In his statement, the Portuguese said;
"More important than the number of falls you take in your life, is how fast or how strong you get back on your feet. True champions never break.
"Our focus is already in Cagliari, in the Serie A struggle, in the Italian Cup final, and in everything, we can still achieve this season.
"It's true that the past belongs in museums but unfortunately, football has memory and so do I!
"History can't be deleted, it's written every single day with resilience, team spirit, persistence, and lots of hard work.
"And those who don't understand this will never achieve glory and success."
The Portuguese felt heartbroken that the team has been knocked out yet again three years in a row.
Possibilities of a move are sure since his contract with the club expires in 2022.
See Also: Jose Mourinho On The Long-Term Future Of Gareth Bale
Thanks for reading.