UEFA Takes Decision On Real Madrid And Juventus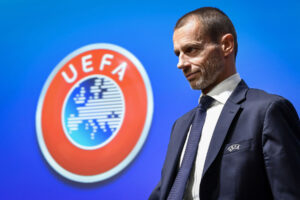 The European Football governing body UEFA has taken its decision regarding Real Madrid and Juventus.
These two European giants were part of the leading force regarding the European Super League.
UEFA during a virtual meeting had decided not to sanction both teams for participating in the now-suspended Super League.
The league had 12 participants when it was announced on Sunday, but was met with a not-so-good welcome.
Fans all over had taken to the entrance of their stadiums to protest against the competition.
Due to the criticism and much chastisement, 8 of the 12 pulled out of the competition just after 48 hours of its announcement.
Clubs involved include Juventus, Real Madrid, FC Barcelona, Manchester City, Manchester United, Atletico Madrid, Tottenham, Liverpool, Inter Milan, AC Milan, Arsenal, and Chelsea.
Originally, clubs adamant to remain in the competition could have been banned from participating in the UEFA Champions League.
Real Madrid could have been kicked out of this year's semi-final against Chelsea.
But UEFA has decided to pardon both the Bianconeri and the Los Blancos.
See Also: UEFA President Plans To Ban Clubs In The Super League
Thanks for reading.