Toni Kroos Takes A Jab And Claps Back At Mason Mount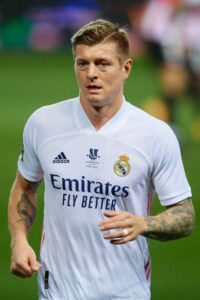 Real Madrid midfielder, Toni Kroos isn't taking things too kindly with Chelsea midfielder Mason Mount.
Despite losing in the semi-finals of the UEFA Champions League, the German still found time to take jabs.
Los Blancos were outplayed by the Blues on Wednesday which seems to have created a rocky foundation in the Madrid camp.
Prior to the game, Kroos had stated that in his 15-year career, no Chelsea individual player had caused him to lose sleep.
Well, boys will be boys, Mason Mount had a reply that was somehow fascinating. The youngster told BT Sport;
"I saw one of their players say that none of our players stop him from sleeping, maybe he should lose a bit of sleep for our team, we could have scored more than five goals."
The German midfielder found a final response that we can consider as a low blow to the Englishman.
Kroos replied saying;
"Still sleeping ok. But well done yesterday. congrats. Good luck in your first Champions League Final."
Despite suffering a disappointing loss, Real Madrid is still far ahead of Chelsea as far as Champions League is concerned.
See Also: Real Madrid May Soon Not Be One Of Europe's Best
Thanks for reading.