How Important Federico Valverde Is To Real Madrid Squad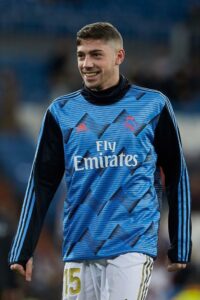 There is no questioning the significant importance of Federico Valverde to Real Madrid because it's definitely obvious.
No offense to other Real Madrid midfielders but it is clear that there is a little more needed.
Los Blancos suffered a disastrous loss to Chelsea FC in the semi-finals of the UEFA Champions League.
The Merengues were outplayed both at the Estadio di Stefano and at the Stamford Bridge, they were in Chelsea's pockets.
The caliber of midfielders on the Real Madrid side were a class of their own but a lot more than their technicality was needed.
On Chelsea's side, they had the French midfielder, N'golo Kante who seemed not to be troubled as he had the middle in his locks.
So, why is Federico important in this time?
Valverde is not the most technical midfielder as far as Real Madrid is concerned, but he is a decision maker in a split second.
The Uruguayan brings the young vibe and energy to the Los Blancos midfield when he is on the pitch.
It is expected that the Uruguayan should be used more often than usual in coming seasons.
See Also: Toni Kroos Takes A Jab And Claps Back At Mason Mount
Thanks for reading.