Nas And Eminem Feature In New Album 'Kings Disease II'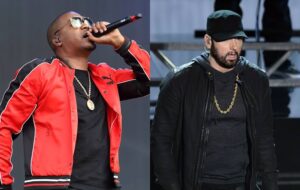 American rappers Nas and Eminem are set to feature on a new album 'King's Disease II'.
According to the News York rapper, The album was released on Friday. It is a follow up to 2020's 'King Dise
The Crown Heights born rapper took to social media to show the Feature cover to his 15 tracklist LP.
He also officially showed that Detroit rapper, Slim Shady would be a feature in the new album.
Other songs present in the album; Death Row East, 40 Side, Moments, Count Me In  and a host of others.
This will be the first official rap collab from both of the New York and Detroit rappers.
See Also: Justin Bieber And BTS To Collaborate On A New Song
Thanks for reading.