Da Baby Is Voting Kanye West In Presidential Elections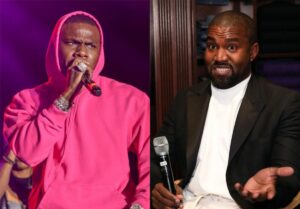 Cleveland born rapper, Da Baby has said he will be voting in Kanye West in the 2020 United States presidential election.
Ye made his presidential intentions via Twitter on the fourth of July 2020 when he made a post with the United States flag.
"We must now realize the promise of America by trusting God, unifying our vision and building our future. I am running for the president of the United States #2020VISION."
The rapper got support from technological entrepreneur, Elon Musk.
Ye has had a lot of hitches on his way during his campaign from family issues where his wife Kim Kardashian spoke on his mental health.
There were also rumors that stated he was dropping out of the presidential race, which doesn't seem to be so since he has picked his running mate.
Da Baby showed his support for the Chicago rapper on Twitter when he said;
"Ima let y'all finish…But you got me fucked up you think I ain't going for Ye."
Ima let y'all finish….

But you got me fucked up you think I ain't voting for Ye. ??

— DaBaby (@DaBabyDaBaby) August 12, 2020
Another person who has shown his support for Ye is Nick Cannon who believes the country needs another black rapper.
"Why not, we need another black man in office."  
Kanye currently has another issue stating that he may be under an Election Fraud investigation for faulty signatures.
According to CNN political analyst, April Ryan;
"Two states declaring #KanyeWest ineligible to be on #POTUS ballot due to faulty signatures could open him up to an #ElectionFraud investigation."  
Thanks for reading.
Leave a comment in the sections below.