Chance The Rapper Wants Justice For Megan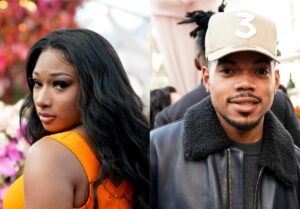 Chicago rapper, Chance The Rapper has demanded justice for Megan Thee Stallion after getting shot by Tory Lanez.
The Houston rapper shook tables after coming out to openly confirm getting shot by the Canadian.
"Since y'all hoes so worried 'bout it, yes this nigga Tory shot me. You shot me. and you got your publicist and your people going to these blogs and lying and shit.
"Stop lying. Why lie? I don't understand. I tried to keep the situation off the internet, but you dragging it. You really fucking dragging it.
"Muthafuckas talking 'bout I hit this nigga. I never hit you. Muthafuckas was like, 'Oh, she mad' cause he was tryna fuck with Kylie' No, I wasn't.
"You dry shot me."
After seeing and hearing Megan's word, the Chicago rapper aired his thoughts on Twitter;
"I hope Meg really gets justice for what Tory did to her. 
"And that we can all learn from this, how near and constant and serious, the threat of lethal violence and abuse is for every Black Woman."
As far as the shooting incident is, a petition was raised for the deportation of the Canadian musician.
There have been no words from Tory Lanez so far.
Thanks for reading.
Leave a comment in the sections below.