Dr. Dre's Wife Nicole Young Files Lawsuit Against Him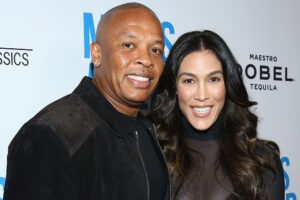 Wife of Producer and CEO of Aftermath Entertainment, Nicole Young has filed a bombshell lawsuit against the rapper.
According to PageSix, Young is suing her estranged husband under claims that she co-owns the trademark to his name.
It also stated that she also co-owns his landmark album 'The Chronic.'
In the document filed, that Dr. Dre had secretly transferred all the valuable trademarks to a holding company and also said he kicked her out of their home earlier this year.
The document Nicole presented read that "Two days after the threat, Nicole had no choice and initiated divorce proceedings.
"Andre's transparent and reprehensible scheme to transfer these assets away, without Nicole's knowledge or consent.
"So he could retain more for himself in a divorce from his wife of 24 years, and the mother of his 3 children, is an epic failure and reveals the true nature of his character, or lack thereof."
The rapper and his wife had decided to call it splits due to unreconciliable differences they were having.
They both have been married since 1996.
Thanks for reading.
Leave a comment in the sections below.