Kanye West Releases First Campaign Ads For President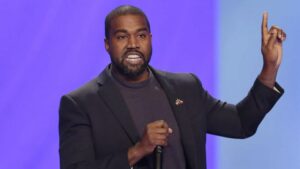 Apparently, billionaire rapper, Kanye West still has his eyes set as he releases his first ads for president.
Although, if the rapper is still serious about the seat, he definitely has a lot of work to do since he has a lot more grounds to cover.
His first political ad could be either right on time or way too late, either way, he has a lot on his hands.
The rapper had shown his interest via a tweet earlier in the year;
"We must now realize the promise of America by trusting God, unifying our vision, and building our future. I am running for the President of the United States #2020VISION"
Ye's campaign ad carries Kanye on a podium with the American flag behind him as he gave a message as regards faith, religion, and prayer.
The campaign just debuted on social media.
In a nutshell, the billionaire rapper is telling everyone that he still has eyes on the presidential seat and urging everyone to vote for him.
His campaign is coming in just barely 3 weeks to the election day which could either be a bad idea or a perfectly timed move.
See Also: Kanye West Is Running For President Of The United States
Thanks for reading.
Leave a comment in the sections below.