Keke Palmer On Donald Trump Inciting A Race War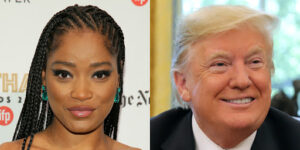 American singer Keke Palmer has spoken on the protests in the United States, stating that President Donald J Trump might be inciting a race war.
Protests have erupted all over the country on Police brutality and her words were to support the Black Lives Matter movement.
Speaking with Cosmopolitan, Keke Palmer said;
"Of course no one wanted the coronavirus pandemic to happen, but i think quarantine allowed us to be more reflective.
"Maybe before, we'd be able to gloss over it because of work.
"It's also been a build up: There have been so many names turned into hashtags, so much pain. It blows me away because our language has progressed, I don't mean specifically Black people.
"I mean young people, millennials. Naming White supremacy, saying that out loud. When I heard 'defund the police,'  I'm like, Oh sh*t. We actually could do that."
The American actress and singer continued by saying;
"I think President Trump plays into it too. He's inciting a race war. His craziness is inspiring us to just really get him the f**k out!
"It's like we needed somebody who riled us up so much for us to be activated to the point of saying, 'Oh hell no.' I can't let this guy continue.
"I have to do something. I have to find a way to let my voice be heard and to let people know that I'm not with this."
See Also: The United States Are Thinking On Banning Tik Tok
Thanks for reading.
Leave a comment in the sections below.