Mikel Arteta Hints Possible Ozil Return To Arsenal Squad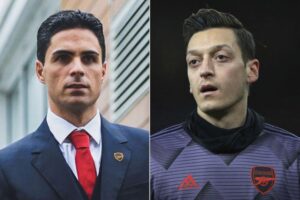 Arsenal manager, Mikel Arteta has hinted at a possible return for Mesut Ozil to the Arsenal squad by January.
The German had been left on the sidelines by the team both domestically and continentally since the close of the transfer window.
Ozil had chosen to remain at the club despite having offers from other clubs and not featuring in any competition.
Speaking on the future of the German, Arteta said;
"He's not in the squad right now. I'm focusing just on the players we have here. But whatever happens in January, we have some time to decide."
Mesut Ozil hasn't featured for his Spanish manager since March and has been consistently overlooked even by the club.
Speaking on working with the German midfielder, former Arsenal manager, Arsene Wenger said;
"He was not difficult to manage, He was a guy who had a special quality as a creative player and needed to have fun.
"He is an artist and these guys are a bit more sensitive. They need support and an environment that pushes them to give their best."
See Also: FC Barcelona Considering A Move For Gigi Donnarumma
Thanks for reading.
Leave a comment in the sections below.