Twitter Reacts As Edison Cavani Stuns Southampton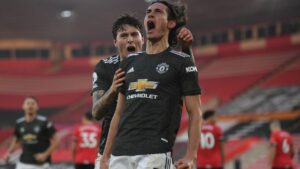 Manchester United completed an impressive comeback with Edison Cavani as the topic of tonight against Southampton.
At the end of the first period, the host sat comfortably at 2 – 0 and maintained that scoreline for an hour of the game.
Manchester United seemed to dominate early in the first period but failed to convert a whole lot of chances.
Cavani was introduced in the second half and his magical instincts seemed to rub off on the game.
The Uruguayan found Bruno Fernandes who didn't fail to convert from a superb first touch to make the game 2 – 1.
Cavani then went on to secure the victory for the Red Devils after two superb headers that found the back of the net.
Since the end of the game, Twitter has been buzzing from the Uruguayans performance. Here are some of them;
"Attention ladies and gentlemen:
This is Edison Cavani. This is what he does.
#MUFC
#SOUMON
#PL"
"That's why @ECavaniOfficial has been on the top for so many years, he's always on the move, always looking to get a goal #SOUMUN"
"Edison Cavani now has 3 goals and 1 assists in just 256 minutes for us – a goal contribution every 64 minutes."
"Cavani may no longer be mentioned in the same breath as Falcao. Big challenge was whether he could transmit form from Tuesday night into league games and he did that and then some.
"Proactive of Solskjaer to put him on when he did."
"That 10 PL games @ManUtd have come from behind to beat South Hampton."
See Also: Chelsea Advances To UCL Knockout Stage – Twitter Erupts
Thanks for reading.
Leave a comment in the sections below.