UEFA President Plans To Ban Clubs In The Super League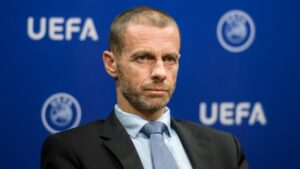 UEFA president, Aleksander Ceferin has threatened to ban European clubs who remain in the Super League.
The League which was announced on Sunday was met with a bad welcome that saw many of the clubs withdraw.
But four clubs out of the original 12 remain in the proposed league and could face UEFA sanction.
The clubs that remain are Real Madrid, FC Barcelona, Juventus, and AC Milan, they could be banned from the Champions League.
According to the UEFA president, these clubs will have to choose where their loyalties lay either a European club or Super League.
 In his statement, Ceferin said;
"It's crystal clear that the clubs will have to decide if they are Super League or they are a European club.
"If they say we are a Super League, then they don't play Champions League, of course… and if they are ready to do that, they can play in their own competition.
"For me, it's a very different situation between the clubs that admitted their mistakes and said we will leave the project.
"The others mainly know I would say that this project is dead, but they don't want to believe it probably."
Real Madrid may be kicked out of the Champions League semi-finals this season if they continue.
See Also: Ed Woodward Resigns As Manchester United Chairman
Thanks for reading.