Jamie Carragher Pits Brendan Rodgers To Manage Arsenal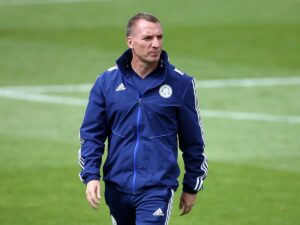 Liverpool legend, Jamie Carragher has picked Brendan Rodgers as the suitable person to manage Arsenal F.C.
The London team is having a really tough time at the moment since not having a win since the first week of November.
Arsenal's last English Premier League win came against Manchester United.
Many thoughts have come to mind for a possible replacement for the Spanish manager since he seems to be under fire.
Carragher believes that the Northern Irish-man is the perfect fit for the position over Mikel Arteta who he deemed inexperienced.
In his statement, the English retired footballer said;
"I think Brendan is the best British coach out there. Who else is there, I think he could manage Chelsea or Arsenal, but not Manchester United because of the Liverpool connection.
"I don't think he will manage Liverpool again.
"I think Rodgers is better than Lampard and Arteta. He's got more experience, he's managed in different leagues with Celtic, cup finals, Champions League, he's done a lot.
"You don't get a top job unless you play good football."
See Also: Liverpool Thinking Of Selling Unhappy Mohamed Salah
Thanks for reading.
Leave a comment in the sections below.