Gareth Bale Still Loves Real Madrid According To Agent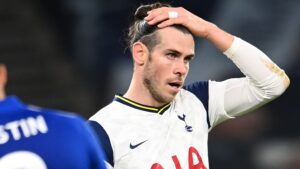 According to Jonathan Barnett, the Welshman's agent, Gareth Bale still loves Real Madrid right now.
The Wales international has been on loan to English Premier League side and his former club Tottenham Hotspur.
Bale was struggling to fit into Zinedine Zidane's Real Madrid and eventually went on loan to the EPL.
Even now, the Welshman is struggling at Spurs and hasn't featured occasionally on Jose Mourinho's starting xi.
Now, according to Barnett, his Welsh client is still open and eager to return to the Santiago Bernabeu.
In his statement, Barnett said;
"He [Gareth Bale] still loves Real Madrid. He hasn't problems with the club, it's a wonderful club. It wouldn't be a problem [for him to return].  
"They just have to decide if they need him back if he can play for Madrid and all these things. I guess you have to ask Mr, Zidane if he wants him, I don't think so."
See Also: Guardiola Believes Liverpool Still Have a Title Chance
Thanks for reading.