Lionel Messi Makes Decision On His Future At Barcelona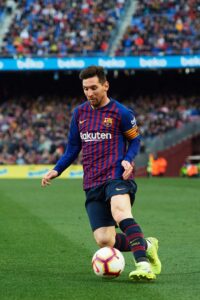 Barcelona captain, Lionel Messi has reportedly taken a decision regarding his future at Barcelona.
The Argentine has reportedly stated that he'd like to extend his stay at the Catalonian club beyond the current season.
At the final months of his current contract with the Blaugranas, Messi has not yet penned down his signature for a new contract.
The Argentine according to reports will sign a new deal that's worth half of his current Barcelona deal.
Which will be evened out by the length of the current contract.
Before now, Messi leaving the Blaugranas has been the subject of discussion as he seemed to be linked with a move out of the club.
Clubs like Manchester City and French side Paris Saint-Germain had shown interest in the Argentine striker.
The striker seemed to be fazed at the start of the season which seemed to affect the team's performance.
See Also: UEFA Takes Decision On Real Madrid And Juventus
Thanks for reading.