Nigerians React To The Dismissal Of Frank Lampard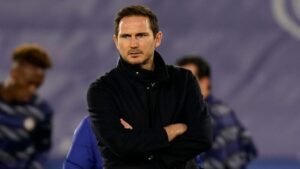 Chelsea fans in Nigerian have expressed their feelings towards the dismissal of Frank Lampard as The Blues manager.
The Englishman returned to the Blue side of London as a manager in 2019 which was pleasant to the fans.
But due to the poor performance of the team in the English Premier League, the Englishman was relieved of his duties.
Anyway, his dismissal didn't come as a surprise to many fans, as they believe that their loyalty to the club supersedes their loyalty to him.
Whereas, there are others who believe that the English man needed more time and the sack was uncalled for.
Here are some of the fan reactions;
I don't think sacking Frank Lampard was a good decision by Chelsea FC. Building a formidable team takes patience, sacrifice and time.
I wish Lampard all the best ?

— Obaro Tiblaze (@ObaroTiblaze) January 25, 2021
True. Had Frank Lampard not got Chelsea into the champions league, Roman Abramovich would've never been there.

— Kenneth (@NiceGuyKenny) January 25, 2021
I legit predicted this since last year but meh,yunno??? #Chelsea #FrankLampard # https://t.co/tLIyv44TwP

— Ayodeji (@heisdeji) January 25, 2021
Mixed emotions

Guess our long term strategy consist of many short terms.

It's the way we've been one of the most successful clubs in the past 20years

It's the way it has been and looks like it's the way it will always be.#ThankYouFrankLampard pic.twitter.com/4oDO4N4b28

— Makoje Uchechukwu (@UcheMakoje) January 25, 2021
As a Chelsea fan, I find it a bit disappointing decision.
You have to give Frank Lampard a chance.@ChelseaFC

— Thompson O. Wisdom (@realThompsonW) January 25, 2021
London Bridge has fallen
Following the dismissal of head caech #franklampard pic.twitter.com/qYOHFamLHc

— Austin uye (@UyeAustin) January 25, 2021
First pl goal under lampard – mount
Last pl goal under lampard – mount
Match made in heaven ?

— Rola (@kofoworola__a) January 25, 2021
See Also: FC Barcelona Hope To Fill No 9 Slot With Sergio Aguero
Thanks for reading.