Inauguration Ceremony Of Joe Biden And Kamala Harris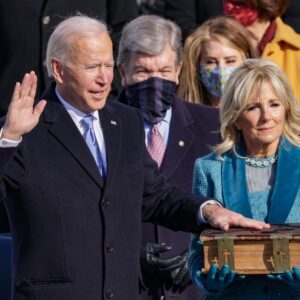 The inauguration ceremony of President Joe Biden and Kamala Harris his vice was graced by stars.
Award-winning singer and songwriter Lady Gaga took the stage first to perform a rendition of "The Star-Spangled Banner."
The Star had made the announcement on Twitter of her performing the National Anthem during the ceremony;
"Singing our National Anthem for the American people is my honor. I will sing during a ceremony, a transition, a moment of change-between POTUS 45 and 46. For me, this has great meaning."
Another star who performed was Jennifer Lopez who performed patriotic songs including "America The Beautiful" and "This Land Is Your Land."
Singer and songwriter Garth Brooks took the stage to perform "Amazing Grace."
National Youth Poet Laureate Amanda Gorman also took the podium to give a heartfelt poem during the 59th Inauguration ceremony.
See Also: DaBaby – He And Lil Wayne Are The Best Rappers Alive
Thanks for reading.