Lil Pump Calls Out Eminem – Calls Him Lame On Instagram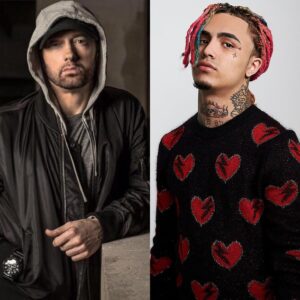 American rapper Lil Pump has taken shots at fellow American rapper, Eminem on social media.
The trap music artist hopped on his Instagram story on December 24th to say what he thought about the rap god.
In his story, he had called Eminem a lame a** bitch, saying no one listens to his old a**.
"Aye, fuck Eminem, you is lame as hell. Ain't nobody listening to your old ass. You lame ass fuck. bitch."
The rainbow rapper had posted a picture on Instagram with the caption saying;
"IM THE NEW AGE MICHAEL JACKASON."
See Also: Cardi B Apologizes After Her Big Thanksgiving Celebration
Thanks for reading.
Leave a comment in the sections below.