John Legend And Alicia Keys Head To Head Verzuz Battle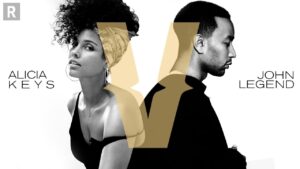 Fans were thrilled by two of the greatest, John Legend and Alicia Keys went head to head in their verzuz battle.
Both R&B sensations were really thrilling as they played their black and Pink pianos showing their iconic trait.
Both icons have released their new albums, John Legend "Bigger Love" and Alicia Keys "More Myself: A Journey".
The two performed live on Instagram for Juneteenth in front of a virtual audience.
Among the virtual audience include Michelle Obama, Fat Joe, Swizz Beatz, Ella Mai, Dwayne Wade and a host of others.
https://www.youtube.com/watch?v=7-Q_hwMSY2E