TI Addresses Tory Lanez On Megan Shooting Incident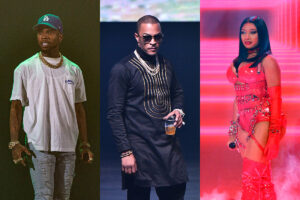 As it stands, the Megan Thee Stallion shooting incident has taken over everywhere, as TI addresses Tory Lanez on the issue.
Megan Thee Stallion went on Instagram live to confirm that the Canadian shot her on both feet on the day of his arrest.
"Since y'all hoes so worried 'bout it, yes this nigga Tory shot me. You shot me. And you got your publicist and your people going to these blogs lying and shit. 
"Stop lying. Why lie? I don't understand. I tried to keep the situation off the internet, but you dragging it. You really fuckin' dragging it.
"Muthafuckas talking about I hit this nigga. I never hit you. Muthafuckas was like 'Oh, she mad' cause he was tryna fuck with Kylie' No, I wasn't.
"You dry shot me."    
In her video, she stated that she had kept silent for the fact that she'd have to explain to the police why they had a gun in the car.
As usual, everyone was puzzled about hearing about the shooting and Tip has requested that Tory Lanez makes a statement on the issue.
"How in the fuck you shoot a girl in a bikini? What the fuck. That's crazy. Goddamn. That is unacceptable.
"I'm not saying she a lie, I'm not calling anybody a liar, I'm just saying, I can't imagine. It's unimaginable.
"Yeah, that's fucked up. I don't have no words. I'm just waiting for the whole story. I need to hear everything. 
"Him shooting her, that's preposterous. Under no circumstances should any man be accepted for shooting a Black Woman. Or any woman.
"Tory, you need to say something, bruh. Come on, clear this…you need to say something, bruh. You gon' have to speak to this."
Before this though, Chicago rapper, Chance the Rapper had demanded justice for Megan thee Stallion via Twitter.
Thanks for reading.
Leave a comment in the sections below.