Khloe Kardashian Speaks Out On Engagement Rumors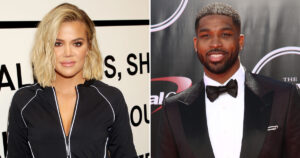 Khloe Kardashian has had something to say, showing her confusion amid engagement rumors to Tristan Thompson.
There had already been reports that state that both Khloe and Tristan were getting back together.
These speculations started after Tristan's birthday wishes to the mother of his child and also she seemed to be wearing a diamond ring in one of her photos from her birthday.
In response to her supposed relationship speculation, the 36-year-old took to twitter saying "wait..!.what? lol."
The Keeping Up With Kardashians star continued by saying:
"I just came online and I'm even confused lol. Basically my daily thoughts about 2020. But for real…wtf lol people just be talking.
"Quarantine has us all going [tongue-out emoji]."
She then made another tweet on Friday saying:
"Great morning!!!! Start your day with a grateful mindset and everything else will fall into place!! Bless you."
According to E! News, a source has said that the pair are far from engaged.
"Khloe seems very happy with where things are right now. He seems committed and has made changes. Obviously Khloe is hesitant and is taking it very slow.
"The time they have had together during quarantine has been very special and meaningful.
"Khloe realizes when Tristan goes back to playing basketball and on the road, everything will change.
"She isn't getting ahead of herself and she is just enjoying having him around right now and all of the family time they have had together with True."
According to E! News, another source stated that the pair are OK with 'co-parenting'.
Thanks for reading.
Leave a comment in the sections below.