My First Screenplay – The Bodyguard Part 2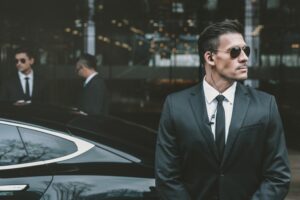 Screenplay – The Bodyguard Part 2.
If you didn't see the first part, click the link below.
Travis walks with Jason out of the briefing room to his table, Jade tags along.
The Bodyguard Part 2
JADE
What's up T?
JASON
T? You two need to get a grip, this is a Police Station not a titty bar.
Travis and Jade stare at him surprisingly.
JADE
Titty bar? Really? It makes no sense at all.
TRAVIS
Seriously no sense at all.
The three get to Travis's table and he takes a sit.
JASON
So you betting on the game tonight?
TRAVIS
Yup! Lebron plays tonight so I'm feeling lucky.
JADE
Can we discuss anything else apart from the game?
JASON
(rolls eyes)
Oy vey! I am outta here later dude and you.
Jade smiles as Jason walks away, she turns and stares at Travis.
JADE
So, whatcha doing tonight?
JASON
He's doing nothing at all.
TRAVIS
Going after the Tonkovs.
JADE
Oh yea, really forgot about that. We can plan dinner later on
TRAVIS
Maybe, I guess.
Jade walks off after giving a peck to Travis who isn't sure what it meant.
EXT. APARTMENT BUILDING – NIGHT
Several Police squad cars and vans pull up in front of the Apartment building. Lieutenant Rhodes 40, arrogant and cynical leads the team in for the raid.
An officer speaks into the car speaker.
OFFICER
This is the police, we have the building surrounded, come out with your hands in the air.
No response. Residents begin to gather around and officers maintain a perimeter.
LIEUTENANT RHODES
Let's go get them boys.
Officers move into the apartment. Lieutenant Rhodes is flagged by Travis and three other officers.
Blaine Sanders, 30, Nick South, 32, and Steven Jenkins, 30, all hostile, skeptical and thoughtless.
INT. APARTMENT BUILDING – NIGHT
They get to apartment 24 and BOOM burst through the doors.
NICK
It's empty
LIEUTENANT RHODES
We're moving out, round up everyone, outside now.
BLAINE
This is unit 3 we're moving out.
They come out of the room and hear gunfire from upstairs. They all run up.
Police officers are taking fire from masked men.
Travis runs in guns blazing with his M27 automatic rifle.
He steps forward and notices the Lieutenant receiving an envelope from one of the masked men in a room.
He charges into the room to the disdain of the Lieutenant and the masked man makes a run.
Travis tries to shoot but is stopped by the Lieutenant.
LIEUTENANT RHODES
Hey hey! What are you doing?
TRAVIS
The hell you mean what are my doing?
What are you doing? What do you have in your pocket.
Lieutenant Rhodes is disgusted and walks outside the building with Travis questioning him angrily.
TRAVIS (continued)
Lieutenant, what was that?
We came for an arrest, we meet an empty room, all of a sudden we are taking heavy fire like we are in freaking Afghanistan.
And you're with a criminal…What's in the envelope?
Travis pulls Lieutenant Rhodes on his shoulder. Rhodes is really pissed now.
TRAVIS (Continued)
Why didn't he kill you Lieutenant?
LIEUTENANT RHODES
Control yourself Sergeant and know your place.
TRAVIS
Don't give me that superior officer shit.
Travis goes for the Lieutenants pocket but the Lieutenant fights him off.
LIEUTENANT RHODES
Sergeant you are this close to getting cuffed.
Travis pulls his gun on the Lieutenant which now draws the attention of other officers on the scene.
TRAVIS
Empty the contents of your pocket Lieutenant right now
LIEUTENANT RHODES
You dare pull your gun on me, Sergeant?
TRAVIS
Sir I'm just doing my job now let me see that envelop.
Jason runs to him and lowers Travis's gun.
JASON
Yo yo yo yo! Man chill, what the hell? Put the gun down.
LIEUTENANT RHODES
That is it, your insolence has gone too far, place cuff him.
An officer collects Travis's gun while another cuff him and take him to the back seat of the squad car.
Lieutenant Rhodes turns to Steven.
STEVEN
What do we do now?
LIEUTENANT RHODES
This is not a problem, I'll have him taken care of.
All cars drive off.
It continues…..!!
Thank you for reading.
Leave a comment in the section below.