Jada Pinkett Smith Speaks On August Alsina's Allegations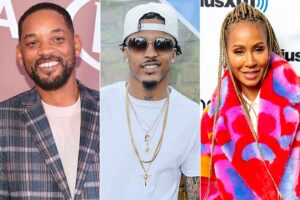 Actress Jada Pinkett Smith will have a Red Table Talk on healing due to August Alsina's allegations on their certain romance.
She stated this on her Twitter account few days after been in the claim by the musician.
"There's some healing that needs to happen…so I'm bringing myself to the Red Table."
Earlier the R&B singer had made the allegations during an interview with with Angela Yee of The Breakfast Club when discussing his new album.
During the interview, the "Nunya singer" stated that the actresses husband Will Smith gave his blessings for the affair to go on.
"I actually sat down with Will and had a conversation due to the transformation from their marriage to life partnership, he gave me his blessings."
He continued by saying;
"I totally gave myself to that relationship for years of my life, and I truly and really, really deeply love and have a ton of love for her."
"I devoted myself to it, I gave full self to it so much so to the point that I can die right now and be okay with knowing that I truly gave myself to somebody."
Jada's representatives spoke saying the accusations were wrong after he had also made the claim to Page Six.
Even Will Smith hasn't spoken on the issue but his representative have also come out to debunk the accusations.
The singer still stands by his story, which has led to Jada having a Talk for herself to express emotions.
See Also: Rapper Kanye West Is Running For President 
Leave a comment in the sections below.