Cardi B Has Words For Haters After Twitter Trend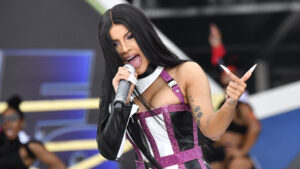 Grammy award winner, Cardi B has a clap back for those that started the #CardiBIsOverParty trend on Twitter.
The New York born rapper wasted no time in her reply as she took to her social media to address the trend.
"I woke up and I'm seeing that they are trying to make 'Cardi B is cancelled party'. I'm like what the f**k. I'm not doing anything.
"So now I see these guys I guess are editing or they are claiming I have a fake Instagram, I don't know, these people must think that I'm a 15-year-old girl."
https://www.instagram.com/p/CB3NFXsArO7/
There were also posts that claimed the rapper from The Bronx was having a beef with Ariana Grande which she also addressed.
"Ariana Grande? I don't even have a problem with her. Why would I ever talk about her? I like her music. I don't know."
Cardi B stated that the reports came from a fake Instagram accounts.
"If I had issues with anybody, my team wouldn't even talk to nobody that I have issues with. I don't even have issues with any of these girls.
"Don't make lies about me. It's tiring. It's annoying."
Later on, it was seen that another trend had started which were #CardiBIsComing and #WeLoveYouCardi.
Cardi B also had something to say to her fans.
"I'm seeing so much love from, not only my fans, but just random people that are not fan account pages, are just having my back and realizing how f**ked people could do certain shit.
"It's crazy how that s**t backfired on the devil, I'm so thankful, I'm so grateful for you guys. Thank you for making those other hashtags trend."
See Also: Celebrities Who Hate The Met Gala
Leave a comment in the section below.
Thank you for reading.