Chris Hemsworth Getting Ripped For Hulk Hogan Biopic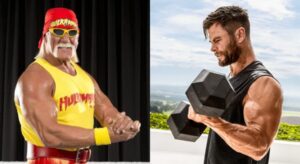 Australian actor, Chris Hemsworth looks to be beefing up a lot now to star in the upcoming Hulk Hogan biopic.
Apparently Chris is working out twice as hard to play the role than he did for the God of Thunder.
Speaking with Total Film, the Thor actor said;
"As you can imagine, the preparation for the role will be insanely physical. I will have to put on more size than I ever have before, even more than I put on for Thor."
He continued saying; "There is the accent as well as the physicality and the attitude."
The Australian actor also stated that he may be going bald and rocking the mustache of the WWE legend.
The movie will be based on the WWE legend's wrestling career as he rose to fame and stardom.
See Also: Jada Pinkett Smith Speaks After The August Alsina Allegation
Leave a comment in the sections below.