Kim Kardashian Files For Divorce From Kanye West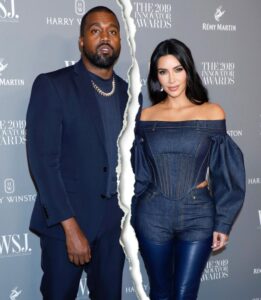 American socialite, Kim Kardashian files for divorce from husband Kanye West after almost 7 years of marriage.
According to TMZ, sources say the divorce is amicable.
Kim is said to be asking for joint custody of their four kids and Kanye is fine with having to co-parent.
TMZ also reports that both parties are already far into getting a property settlement, and none of them is contesting a prenup.
The news of getting divorced may not come surprising to the public because their recent developments speak for themselves.
The couple has been living separately for a while with Kim and the kids in Calabasas and Kanye was off in Wyoming.
When Kanye launched his presidential rally, he had a lot of stories about him and Kim which were a bit bizarre.
Ye had later taken shots at the Kardashian/Jenner family, where he had called Kris Jenner "Kris Jong-Un."
Kim later blamed all of Kanye's actions on his serious bipolar disorder making it cruel to end the marriage at that time.
The date for separation has not been listed but it is to be determined.
This will make it Kim's third divorce since the first and second in 2004 and 2o11 with this being Kanye's first divorce.
See Also: Riff Raff Challenges Tekashi 6ix9ine To A Boxing Match
Thanks for reading.