Erykah Badu Coronavirus Test Result Is A WTF Moment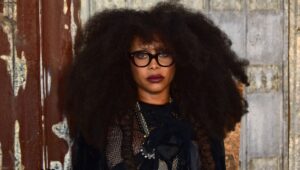 American musician, Erykah Badu says she had conflicting results regarding her coronavirus results.
The singer had reported on Twitter that she had tested positive for the virus on one nostril and tested negative on the other.
In her tweet she said;
"No symptoms. Was tested for COVID. Same machine. The left nostril was positive. Right nostril negative. Maybe they need to call Swiss Beatz so they can do a versus between them.
"Funny thing is, Dr. Only reported the positive result. What the fack is going on here. Rapid test."
"I don't feel bad at all. We have to take those routine COVID tests to work on set. I'm Gucci but thanks."
The singer then went on to carry out a third test which she also tweeted;
"This is my third rapid test in 24 hours. SMH. It's routine to take c19 test before a live stream broadcast for all band and crew.
"Earlier I took 2 and one was positive the other neg in separate nostrils ?? We need to investigate these tests further. I want my $ back."
See Also: Lil Baby Responds To Backlashes After 'So Crazy' Feature
Thanks for reading.
Leave a comment in the sections below.