Celebrities React To Recent Desmond Elliot Statements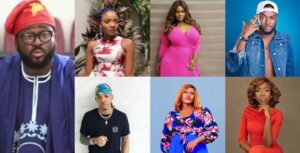 Nigerian celebrities have taken to social media to react to recent Desmond Elliot statements on social media regulation.
In his speech, the former actor turned politician stated that Nigerian celebrities and social media influencers tend to promote hate speeches.
He further stated his disbelief in children being able to insult their elders on social media.
All these ensued after the Lekki Toll Gate shooting on Tuesday, October 20, 2020, and celebrities have wasted no time replying.
"Pinokkio!!! @DESMONDOELLIOT … is this you? You used to be my hero you know but now (man) I guess (facepalming)."
"Desmond no know say cameramen dey that meeting? Cos I'm confused as to why he denied he said what he said lol."
"Desmond Elliot just destroyed all the precious childhood memories he gave us in movies."
"I know say people dey fall hand normally! But some people dey fall or!ck join! Desmond why?"
"You are clueless about self-respect and honesty, You obviously are a user too, You used the social media to win only to come and bash it. It will bash you in return. Watch it happen."
"Desmond Elliot canceled"
"But Desmond Elliot you know that you represent the people. SPEAK FOR THE PEOPLE, NOT TO SAVE FACE. THERE IS HUNGER IN THE LAND."
See Also: Rapper Ladipoe Tests Positive To The Coronavirus
Thanks for reading.
Leave a comment in the sections below.