Chika Lann Defends Her Trending Nude Photos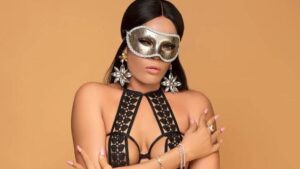 Ex-International model and filmmaker, Chika Lann has come out to defend her actions on her nude photographs.
These photos have seen the model insulted after they had been posted on Instagram.
The filmmaker has now come out to defend her actions, saying that "a woman's body is an artwork".
All that led her to take these photos and post them on her Instagram page which has now sparked a lot of controversies.
It was stated that fans reported the certain photos which were taken down, but she had them posted again warning against her photos been reported.
See her Posts
 "I was forced to be a good girl for years, killing the unique flower that I am, trying to be one that I'm not.
"Yeah, the good girl archetype, is not who I am at my core."
"I am not the sweet Daisy, white and pure. I am Rose: with the sweet smell for the right people, I am the thorns that draw blood if you do not know how to handle me, I am of the dark,the serpentine and the erotic blues when it comes to my sensuality."
"Use me I am yours. Don't give me back to myself. Take me to hell…Sugarboy.
"You people should stop reporting my post oh!!
"A woman's body is an artwork."
"My body is a celebration of humanness. I can't cage it for the comfort of others. 
"So, if you don't like what you see, just take a chill pill and close your eyes, or better still, UNFOLLOW.
"Mai Oui! I play when I want to play. I get dirty when I want to get dirty. 
"Ce ma vie! I am here to show myself and move on to the next stage before my next birth.
"So, like me, hate me, I don't care. I live in my own planet."
See Also: Pro Gamer 'Karma' Got Struck By Lightning While Streaming
Thanks for reading.
Leave a comment below