Logic Says Joe Budden's Words Affected Him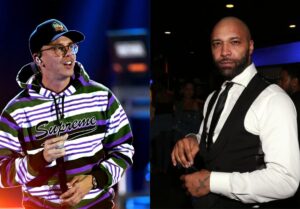 American retired rapper, Logic has said the Joe Budden's words affected him and led to his depression.
Logic had announced his retirement in July stating that he wanted to be focused on been a father and a family man.
He had made the announcement while announcing his album 'No Pressure'.
But as usual Budden had something to say about it stating that he should have retired a long time ago and everyone wanted him to leave.
Budden had always had his say about Logic's career calling him one of the worst rappers to ever do it.
Joe has actually come out to apologize to Logic after the rants he made, Joe Budden's words were;
"Logic, I'm sorry man. Log let me tell you what happened…Log last week I came in here feeling pretty tumultuous.
"Fresh out of Twitter jail, unable to properly read the room and just hating myself and life, honestly."
Logic had now finally spoken up about Joe Budden;
"I literally have no issue with Joe Budden. I've never met him. I don't know him. I've never shaken his hands.
"We've never had a conversation as men.
"This is what he does. He doesn't rap anymore and he speaks on the culture. That's cool. I'm not in control of this guy. He doesn't like me for whatever reason.
"He wants to say I'm not Black enough. I'm not good enough. He's a person who's led to part of my depression and some of my darkest places.
"Bro, your words, they make people want to kill themselves, bro. And that's a real thing."
The L.P for his album is slated to debut at No.2 on the Billboard 200 according to XXL Magazine.
Leave a comment in the section below.