Petition Launched To Deport Tory Lanez After Incident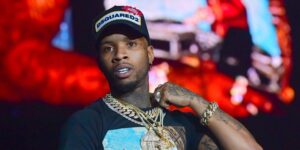 Deport Tory Lanez is the petition going on right now following the rappers shooting incident involving Megan Thee Stallion.
The Canadian rapper was arrested earlier in the month for possession of concealed weapon, in the process Megan took a bullet wound.
And right now, a lot of people aren't really feeling the Canadian after that incident.
According to change.org, a petition was filed for his deportation two weeks ago but gained more attention on the internet as at July 27, 2020.
The attention gained was due to the fact that Megan Thee Stallion had taken to Instagram to address the incident.
The campaign initially required 15,000 signatures but now it is already at 25,000.
"Deport Tory Lanez (Daystar Peterson) back to Canada and ban him from coming to America FOREVER.
"This little 5'3 man with a big ego has contributed nothing to the American Economy, and promotes violence and violence against women.
"Furthermore, he should be banned from the United States FOREVER, for intentionally trying to harm Megan Thee Stallion.
"SEND HIM BACK TO CANADA ASAP!." – the statement read.
The petition is addressed to the Department of Homeland Security.
There have been some missed reactions following the petition, here are some of the reactions;
I seen an article of XXL making a petition to deport Tory Lanez and.. I'm wit that shit 100% get him outta here

— troythedesigner ? (@troysotrill) July 28, 2020
Why do people make Gofundme pages and petitions for anything regarding Celebrities? I just saw a bitch post a petition wanting to deport Tory Lanez from the US
There are literal countries getting WIPED because of starvation and poor living standards but lets deport celebrities ? pic.twitter.com/r0kQkjPsZf

— daniyalbynum (@groovyd11) July 27, 2020
If you're mad that there's a petition to deport Tory Lanez for shooting Megan you clearly don't know anything about immigration law. If you're not a citizen and you commit a crime it jeopardizes your status in the country. It's that simple guys

— ??? (@fulanibaby) July 28, 2020
The petition to deport Tory Lanez is very tone deaf. Prison absolutely, and throw away the key, but deportations are racialised. – Eden

— ? Don't Alert The Stans ? (@datspod) July 28, 2020
Why deport Tory Lanez if @theestallion hasn't said herself he shot her she still not telling the full story so why condemn a man when you haven't heard @torylanez side either the Internet is soo fuckin extra ???‍♂️?

— Gee Stevens Comedian (@G_Monee912) July 28, 2020
What do you think?
Leave a comment in the sections below.