Petition Launched To Deport Tory Lanez After Incident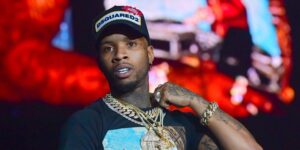 Deport Tory Lanez is the petition going on right now following the rappers shooting incident involving Megan Thee Stallion.
The Canadian rapper was arrested earlier in the month for possession of concealed weapon, in the process Megan took a bullet wound.
And right now, a lot of people aren't really feeling the Canadian after that incident.
According to change.org, a petition was filed for his deportation two weeks ago but gained more attention on the internet as at July 27, 2020.
The attention gained was due to the fact that Megan Thee Stallion had taken to Instagram to address the incident.
The campaign initially required 15,000 signatures but now it is already at 25,000.
"Deport Tory Lanez (Daystar Peterson) back to Canada and ban him from coming to America FOREVER.
"This little 5'3 man with a big ego has contributed nothing to the American Economy, and promotes violence and violence against women.
"Furthermore, he should be banned from the United States FOREVER, for intentionally trying to harm Megan Thee Stallion.
"SEND HIM BACK TO CANADA ASAP!." – the statement read.
The petition is addressed to the Department of Homeland Security.
There have been some missed reactions following the petition, here are some of the reactions;
What do you think?
Leave a comment in the sections below.