See The Trailer To Kevin Hart's Movie 'Die Hart'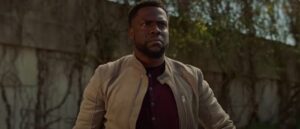 American comedian and actor Kevin Hart has released the trailer to his new movie 'Die Hart' and it is really hilarious.
The movie stars the comedian, John Travolta, Nathalie Emmanuel, and Kevin shared the trailer on his Instagram on his birthday with the caption;
"It's my birthday bitttccchhheeesssss…..So do me a favor and enjoy this dope ass trailer for my new project "Die Hart"…..It's action and comedy on another level.John Travolta is amazing as expected & @nathalieemmanuel lights the screen up in so many ways. Prepare to be blown away damn it….Die Hart is FUCKING GOOD!!!!!! It's that simple. P.S….It's my birthday BITCH!!!!!! #DieHart #ActionStarShit…..Die Hart will be available on @quidi SOON. Stay tuned."
See the trailer;
Also if you noticed, that was also the birthday of Kevin Hart.
Before all that, the comedian's wife had written a heart-warming wish for her husband on his 41st birthday.
Other posts made by Kevin on his birthday, been thankful for reaching the age of 41;
"So blessed and so thankful to see the age 41….I'm lucky to be alive. There will never be another day that just goes by in my life that's not treated with the highest level of respect and appreciation….God is great!!!! Thank you….Happy B Day to me damn it!!!!!#LiveLoveLaugh."
Thanks for reading.
Leave a comment in the sections below.