My First Screenplay – The Bodyguard Part 1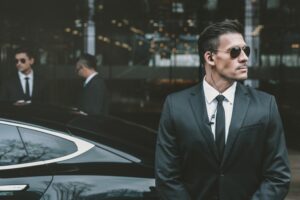 Welcome to the first part of my screenplay titled – The Bodyguard which will be posted in parts.
See Also: Kizz Daniel's Third Studio Album 'King of Love'
The Bodyguard
DAYLIGHT, overhead view of the city and its scenery, cars driving in all directions and the sound of Police sirens blaring.
CUT TO:
INT. SUBURBAN HOME – KITCHEN – DAY
Travis Walters, 29, handsome sexy Caucasian puts down his cup of coffee on his dining table, and grab his car keys as he heads for the door.
EXT. SUBURBAN HOME – DAY
Travis is dressed stylishly in denim as he walks towards his car with his air-pods in his ear.
Natalie, 26, single mother of two is trimming her bushes as she sees Travis walk to his car.
NATALIE
Morning Travis, you're off early.
TRAVIS
Morning Natalie, how are the girls.
NATALIE
Amy and Sarah? They are inside and definitely watching Spongebob…..You know they really do have a thing for you.
TRAVIS
(smiling)
They are really sweet. I got to run off early, say hi for me.
NATALIE
Yeah sure. Hey why don't you come for dinner sometime? the girls would love it.
TRAVIS
(smiling)
No problem, you got it.
EXT. SUBURBAN HOME – DAY
Travis gets in his car, a black Mustang GT and drives out of the quiet and calm streets.
INT. TRAVIS'S MUSTANG – DAY
Travis drives through the roads of Beverly Hills, tall buildings and a clear day, listening to soothing music from his car's stereo. He receives a call from Jason, his best friend and colleague, a Caucasian who has a wife and a daughter.
INTERCUT. int. TRAVIS'S MUSTANG/INT. Police Headquarters – day
TRAVIS
Yo Jason my boy, what's up?
Jason sits with his feet on the office table looking at a brochure of Hawaii.
Jason
Yo Travis my single handsome still single best friend.
TRAVIS
How's the wife? She let you use the phone finally?
Jason walks around the police station towards Jade, 25, Mexican-American who has a crush on Travis
Jason
Oh! he makes a joke. Anyway better come in early the Chief wants to make a briefing. Oh and Jade says hi.
Jade smiles as she speaks to Jason who smiles ridiculously.
Jade
(mouthing)
Tell him I love him.
JASON
Jade says she loves you
Travis
(smiling)
Tell her I love her too but do not be weird.
Jason
Just come in early OK?
Travis pulls up in front of the Police Headquarters.
TRAVIS
Just pulled up. See you dude.
Travis hangs up.
EXT. POLICE HEADQUARTERS – DAY
Travis puts his sunglasses on and walks right through the doors of the Police Headquarters.
INT. POLICE HEADQUARTERS – DAY
Travis walks in throwing high fives at random Police officers before getting to his desk.
Jeffery, 30, a uniformed officer comes up to Travis.
JEFFERY
Morning sergeant, Chief wants everyone in the briefing room.
TRAVIS
Alright sure.
Travis walks into the briefing room sunglasses on and coffee in hand. He looks across the room and sees Jade who winks and smile.
Chief Davies, Police Chief, 54, average in height, with easy going but looks intimidating, and calls every guy 'son'.
The Chief walks into the briefing room.
Some officers are seated while others are standing around the room.
CHIEF
Morning gentlemen! We've received Intel on the Tonkov brothers.
Chief notices Travis with his sunglasses on.
CHIEF (contiued)
Son, take off your sunglasses, you in here looking like the blind Bartimaeus.
Travis smiles and takes off the glasses as the entire room laughs.
TRAVIS
Sorry sir.
CHIEF
Moving on, we go after the Tonkov brothers tonight. Do not I repeat do not kill unless you find the need to, I hope you do not.
We need them alive on charges of assassination, smuggling etcetera etcetera.
You'll find everything in the case files on your desks.
Dismissed.
To be continued.
Leave a comment in the section below.
Thank you for reading.