Rapper Takeoff Sued For Alleged Rape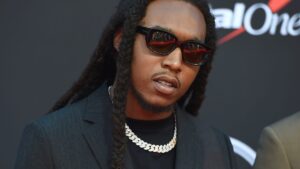 American rapper and Migo's member, Kirshnik Khari Ball also known as Takeoff has been sued for allegedly raping a lady.
According to TMZ, the lady claims the alleged rape happened at a party back in June.
The woman, anonymously known as Jane Doe stated that the Migos member raped her in Dj Durel's bedroom.
According to her, Takeoff had offered her marijuana which she had refused before later getting into an argument with Durel.
She said she went into the bedroom waiting keenly for the argument to die down before the rapper got into the room.
Jane then further said the rapper grabbed her by her butt and then flipped her over before going on to rape her.
As it stands, the rapper has 30 days to answer to the lawsuit.
The anonymous woman is suing for assault, gender violence, sexual battery and a host of others. She also seeking damages.
The rapper hasn't made any comments as of now.
See Also: Rihanna Talks About And Skincare Routine And Tips
Thanks for reading.
Leave a comment in the sections below.