Tekashi 6ix9ine And Nicki Minaj Trollz Lyrics Review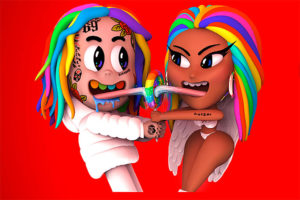 Well it is no news that New York born rapper Tekashi 6ix9ine and Nicki Minaj released a new song titled Trollz.
The song however has received mixed reviews on twitter, despite receiving over 9o million views on YouTube.
Which is why the 96 illusions has decided to analyze the lyrics of the song and come to our verdict to see if it is worth the hype.
We'll analyze the verses and the chorus differently.
Trollz Review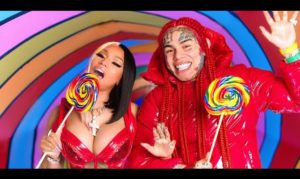 The song starts with a sad pony and we will not talk on the Refrain by CanonF8.
Verse 1 – 6ix9ine
First 8 lines
"I know you don't like me, you wanna fight me.
You don't want no problems at your party, don't invite me.
I don't worry about you niggas, please stop talking about me.
Always talking about me cause you looking for the clouty 
6ix-nina, the 9ine-nina 
Riding in a two-seater  with two ninas.
Baby got that Aquafina, it's cocaina 
Smoking on that OG reefer, no TMZ-a."
Review: The first four lines of 6ix9ine's verse started pretty neat until he went into the world we do not understand.
The remaining half of the first 8 lines, make no sense at all in all ramifications.
 Second 8 lines
"Forgiatos on a Benz truck, make her friends fuck.
Told her she could get Chanel if she let my friends fuck.
Stars shining in the Rolls Royce, it got red guts.
Wait, hold up, nah, I still don't give a fuck.
Vroom, vroom, G5, vroom, vroom, we high.
You the type of nigga that I never wanna be like.
You a type of bitch that will never get a reply.
Hi, hater, bye, hater, vroom."
Review: Now like typical Tekashi 6ix9ine, he always ends up ruining what would have been a good song.
The first 5 lines of the second 8 verses are totally corny and really really trash.
Chorus
"Yeah she like how I throw them racks, yeah,yeah,yeah,yeah,yeah.
Keep on throwing that cash, yeah,yeah,yeah,yeah,yeah.
Keep on throwing that ass, yeah,yeah,yeah,yeah,yeah.
Benz truck in the back, yeah,yeah,yeah,yeah,yeah."
Review: Nicki Minaj's verse
We didn't really need to put Nicki's verse because as usual, Nicki never fails to deliver.
Some of her best lines was:
"They study Nicki style, now all of them wan' mimic.
Talking about snitches when it's snitches in your cramps.
Never stand alone, you always itching for a stamp.
Me. I'm still money, wrists light up like a lamp.
They gon' have to send they best fighter for the champ."
Final Review: Just as expected, despite getting as much views on YouTube, the song didn't just hit to expectations.
We could definitely tell that the song was released as a reply to others calling him a snitch over and over.
But this song does really shy away from what seems to be the intention.
So is the song worth the hype? Our answer: NO
Tell us what you think in the comments below.
Thanks for reading.