Cardi B Apologizes After Her Big Thanksgiving Celebration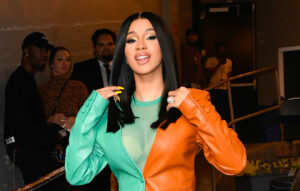 American rapper, Cardi B apologizes following the backlash received after hosting a rather big thanksgiving celebration.
The rapper had hosted a 37-man family thanksgiving celebration which led to a lot of controversy and criticism.
She had tweeted over the weekend saying;
"12 kids and 25 adults over the holidays, it was lit."
After the controversies and criticism, the rapper then tweeted an apology;
"Sorry, my bad wasn't trying to make nobody feel bad.
"I just had my family in my home for the first time and it felt so good and uplifted me.
"I spent so much money getting everyone tested but it felt worth it, I wasn't trying to offend no one."
"Me specially and everyone that works around me gets tested literally 4 times a week. I'm in the middle of work and every time we clock in we must get tested." 
See Also: The Croods 2 Tops Challenging Thanksgiving Box Office
Thanks for reading.
Leave a comment in the sections below.