Epic Storytelling Time – Meek Mill x Miguel – Stay Woke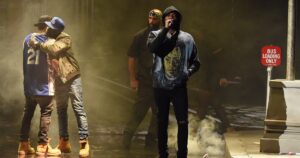 American rapper Meek Mill released his first single after been released from jail in 2018 which he titled "Stay Woke."
The song was featured on his Legends Of The Summer EP, featuring Californian singer, Miguel.
It had a touching effect especially after been performed live at the 2018 BET Awards show.
Every part of the song spoke against racial inequality, injustice, his fight for freedom, and trigger-hungry police officers.
"We go get lawyers to say shit we don't know how to talk.
"They told us to hate each other before we can learn how to talk.
"Mama taught you how to fight, fight before she taught you how to write, right."
 A lot of things they grew up to meet, struggles things they never planned for but in the end, it is what it is.
Getting someone to speak for you just because you have been given another ideology as to how the world operates.
"In a world where black is wrong and white right, it's like a combat.
"We go to war for our freedom, they say we equal"
Meek explains how the world treats people of color especially blacks. The world is not equal.
If I have to fight to get what I want because of the color of my skin then we are not the same.
If I'm in a situation where I'm in the wrong just because of the color of my skin then equality is bogus.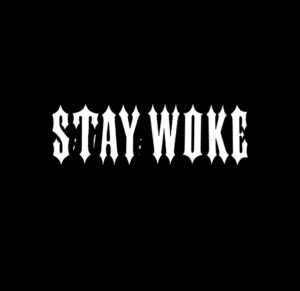 "How can I pledge allegiance to the flag?
"When they killin' all our sons and our dads."
During his BET performance, they staged a scene where a child was hit by a police officer's bullet and an American flag placed over him.
When the ones who are supposed to protect you are the ones who start to hunt you, the world isn't safe anymore.
You can't pledge your loyalty to people who do not consider you important but another target on their hit list.
"I come from a place when you kill your own brother you can brag.
"Like he got bodies, but that's a fad, no, that's a fact.
"You screaming out at your corner, nigga, that's a trap.
"Screaming out at your homie, nigga, that's a rat."
What's worse than living with people you call your brothers and still, you can't be safe around them.
The fear of being snitched on or even killed now becomes a scare and killing your own brother feels like an achievement.
"Stay Woke" was made to open the eyes of many to see that the world isn't right anymore, we're all tripping.
You have to open your eyes and see the light.
"Though it's designed for us to fail, yeah.
"We still prevail through the hell, yeah.
"Can you believe it, we're still undefeated.
"Though it's designed for us to lose.
"We still make it through, nothing's impossible.
"Believe it, we're still undefeated."
You're welcome!
See Also: Seyi Shay Slammed After Criticizing An Idol Contestant
Thanks for reading.