Tory Lanez Could Be Charged With Felony Assault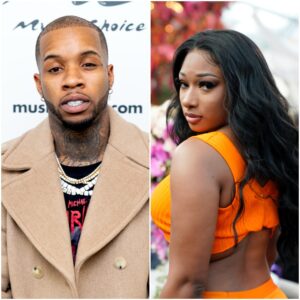 Canadian rapper and singer, Tory Lanez could face a felony assault charge after an attack on Megan Thee Stallion.
Although the Canadian had not been ruled as a suspect, but the Police had been urged to further investigate.
According to TMZ, the Los Angeles D.A.'s office is reviewing the possibility of a felony assault for his involvement.
Megan had suffered a gunshot wound on the night the Canadian musician was arrested for weapons possession.
According to her, the rappers said;
"On Sunday morning, I suffered gunshot wounds, as a result of a crime that was committed against me and done with the intention to physically harm me.
"I was never arrested, the police officers drove me to the hospital where I underwent surgery to remove the bullets."
After the incident, the rapper came out to speak on women protection and their lack of safety;
"Black women are so unprotected and we hold so many things in to protect the feelings of others w/o  considering our own."
As regards her shooting, 50 Cent had made a meme with her head in the 1991 movie Boyz N The Hood as Ricky who got shot running away.
But after finding how serious it felt, the New York rapper offered an apology to Megan Thee Stallion;
"Damn, I didn't think this shit was real.
"It sounded crazy @thestallion I'm glad you're feeling better and I hope you can accept my apology.
"I posted a meme that was floating around. I wouldn't have done that if I knew you were really hurt."
As far as the shooting incident had gone, a petition addressed to the Department of Homeland Security had been raised to deport the Canadian.
"SEND HIM BACK TO CANADA ASAP." the statement read.
Thanks for reading.
Leave a comment in the sections below.