Transfer – Tottenham Set Their Sights On Sergio Ramos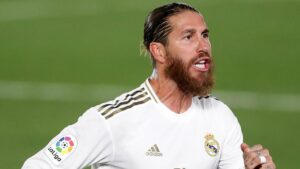 Premier League side, have their eyes on Real Madrid defender and captain Sergio Ramos.
The Spanish international's contract with the Los Blancos expires at the end of the season which is a bit.
Although, Real Madrid manager, Zinedine Zidane is personally asking to secure a contract renewal for his team captain and two other players.
At the end of the season, if the Los Blancos captain doesn't sign a new contract, he could be a free agent.
Spurs manager Jose Mourinho wants to improve his backline by bringing in an experienced center-back to lead his charge.
The Portuguese manager believes that the Real Madrid captain is a better option for his side.
See Also: Jamie Carragher Pits Brendan Rodgers To Manage Arsenal
Thanks for reading.
Leave a comment in the sections below.