50 Cent Has Apologized To Megan Thee Stallion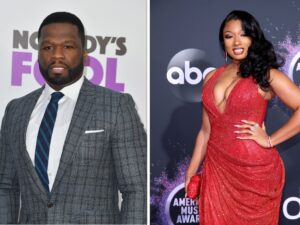 American rapper, 50 Cent has apologized to female rapper Megan Thee Stallion after a meme regarding her shooting.
It was reported that Megan Thee Stallion had suffered a gunshot wound on the night of rapper Tory Lanez arrest.
The Canadian was arrested for having a concealed weapon and now is facing a petition to be deported after shooting the BET award winning rapper.
50 Cent had posted a meme using Megan's head in the 1991 movie Boyz N The Hood as the character Ricky who got shot running away.
He went on to respond to the comments she made earlier about losing both of her parents and not getting over it;
"Imagine being 25 and you don't have both of your parents, my mama was my best friend and I'm still not over that.
"So, you try to kinda feel your space with a bunch of people that you think to make you happy. Like, it's a lot."
The New York born rapper apologized stating that he didn't think it was real and never intended to hurt her.
Megan had also went on to social media to address the people making fun of the shooting.
In his apology, he said;
"Damn, I didn't think this shit was real.
"It sounded crazy @theestallion i'm glad you're feeling better and I hope you can accept my apology.
"I posted a meme that was floating around. I wouldn't have done that if I knew you was really hurt sorry."
What do you think?
Tell us what you think in the comments below.