Beyonce Will Release 'Black Is King' On Disney+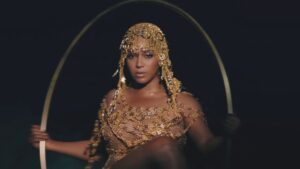 American singer Beyonce is set to release a new film titled 'Black is King' which she wrote, directed and produced.
The movie will premiere on July 31, 2020 and will be aired on Disney channel subsidiary, Disney+.
Also, the visual album will premier one year after the release of Disney's The Lion King.
The film follows Black families throughout time in a really interesting and intriguing story of love and self identity.
The movie tries to take a look in depth to Black resilience, culture, tradition and excellence.
While announcing the visual album, Parkwood Entertainment described it as a memoir towards Black excellence.
"Black is King is a affirmation of a grand purpose, with lush visuals that celebrate black resilience and culture. The film highlights the beauty of tradition and Black excellence."
The album features the likes of Pharrell Williams, Kendrick Lamar, Childish Gambino, Jay Z, her daughter Blue Ivy etc.
See Also: 4 Reasons why you need to watch your favorite movies