Burna Boy Should Have A Public Holiday – Tacha Says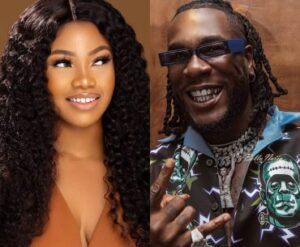 Reality star, Tacha has come out to slam haters, stating that Grammy winner Burna Boy deserved a public holiday.
Burna had bagged the Best Global Album award at the 63rd Grammy Awards ceremony earlier this year.
The artist was given a warm welcome at his home state of Rivers where the Governor had gifted him #10 million.
People had come out to slam the Governor for the gesture he made towards the artist and those who performed on that day.
Well, Tacha didn't take kindly to the shots fired and took her own shots via an Instagram video where she said;
"You are mad, you are legit mad to think what Governor Wike did for Burna yesterday was unnecessary.
"Y'all don't know my state you all don't freaking know my state. The nightlife is completely dead.
"For him to be like Burna come down lemme give you 10 million naira and you people are thinking that it is too much? You are crazy.
"Burna Boy should have the whole town he won a Grammy o, not some plastic award. He won a whole Grammy, that's what Burna Boy won.
"He should even have a public holiday dedicated to him. Meanwhile, you are all here crying and lamenting. You are mad! You are all mad."
News also stated that the singer was also gifted a piece of land by the governor.
See Also: Burna Boy Replies Critics Hoping He Lost At The Grammys
Thanks for reading.