Nicki Minaj's Husband Begs To Be Present For Child Birth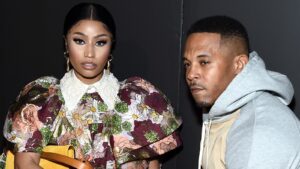 Nicki Minaj's husband, Kenneth Petty has requested that the court grants him permission to witness the birth of his first child.
The Trinidad and Tobago born rapper ended speculations of her pregnancy when she posted a picture showing her baby bump.
According to XXL Magazine, Petty filed a document, pleading that the court adjust his conditions to allow him be present for his child's birth.
But, he was told that he may be prohibited from visiting the birth if it falls in his curfew hours.
Petty's attorney, Meghan Blanco stated that neither the U.S District Attorney nor the pretrial services office oppose the request.
Nicki Minaj has not made any public statement yet.
See Also: 50 Cent Has Apologized To Megan Thee Stallion
Tell us what you think in the comments below.